HALLOWEEN
Not much of a food post, but just a brief post to celebrate Halloween (which is actually this coming Monday). Usually I don't do much for Halloween, as it really isn't that huge for Aussie's as it is Americans.
This year however I went to the Magique Halloween Circus last night at Luna Park. It was a ticketed event that held performing circus acts like trapeze, acrobatic and dancers on stage as well as performers on the dance floor. It was a costumed event for 18 years and up, with facilities to a Bar for drinks and the neat Silent Disco.
After that, I headed on over to a friend's place for a Halloween bash, in my Lolita-esque costume and got some wicked lollies for a treat!
I feel bad that I have no foodie photos to post, so let me hook you up with a treat that'll be sure to freak out your guests as they peer down inside the cookie jar.


One of my fave reads,
The Adventures of Sugarbelle
has this eye-popping cookie recipe that I stumbled upon a few nights back. I really want to learn to bake sugar cookies and royal icing now after seeing these.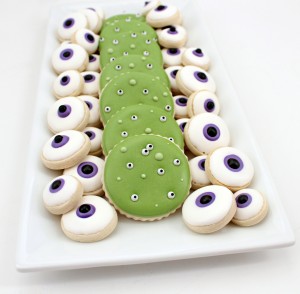 ---


The Sweet Adventures of SugarBelle